04.10.2014 Vortrag beim Symposium "At the Boundaries of Sound – Internationales Symposium für junge Kulturmanager 2014 (03.-05.10.2014)"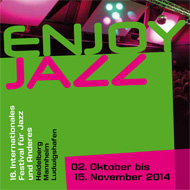 im Kontext von "Enjoy Jazz – 16. Internationales Festival für Jazz und Anderes (02.10.-15.11.2014)", Mannheim.
Hörvortrag – Komposition Uwe Dierksen (Ensemble Modern): www.ensemble-modern.com
Prof. Dr. Marcus S. Kleiner
Hochschule Macromedia, Campus Stuttgart
The Sound of Jungbusch is the (future) Sound of Mannheim.
Thoughts about pop and urbanity
The town is dead, long live the town. During the last years the public space is anew discovered against all sombre forecasts and is formed anew. In the middle of the 'Hyper-Individualism' grows the longing for collective experience. This longing finds their place in the town. New and unusual forms of the public have originated. The new always originates when the old is changed. Besides, borders must be overcome.
In my hearing talk two subjects are discussed – these both subjects are not considered in the discussion with the topical changes of the town mostly:
(1) Which role plays the music, on this occasion, above all the pop music? Since the 1950s pop music has torn borders over and over again and has formed the old anew. The sound of the pop music is a sound of border crossings.
(2) Why does the pop music play thus a big role in Mannheim and for the town? In the heart of the district 'Jungbusch' there is the 'pop academy'. For eleven years the pop academy changes the sound of Mannheim and the town culture. The 'pop academy' is a border crosser and an innovation for the music-based change and future creation of Mannheim.
Towns need their own sound. One recognizes towns by their sound. The Sound of 'Jungbusch' has become during the last years more and more clearly the actually sound of Mannheim.
www.enjoyjazz.de/content/
www.enjoyjazz.de/content/programm/at_the_boundaries_of_sound/index_ger.html
Programmheft zum Download: